BMD ACADEMY: Disaster Preparedness for Pets

Saturday, March 25, 2023 at 11 AM-12 PM
Via Zoom.com video/teleconference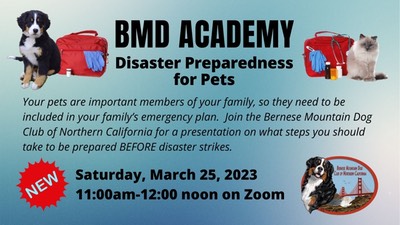 New & improved!!!!
BMD Academy class on Disaster Preparedness for Pets (& you) will be held on Saturday, March 25th from 11am to 12pm (or until the last question is answered).
Your pets are important members of your family, so they need to be included in your family's emergency plan. Join us for a presentation on what steps you should take to be prepared before a disaster strikes.
We'll be hosting the event on Zoom, and you'll need to register in advance for the presentation using this link: https://us02web.zoom.us/meeting/register/tZIuce-vpzMsEtC3bplY5abcC4LnrXFyj6cT
If you know someone who would benefit from this informative event, you can forward the registration link above to them.
We hope to see you there!
Once again, thank you to Debbie Christian for putting together the slides and clips for this great video!