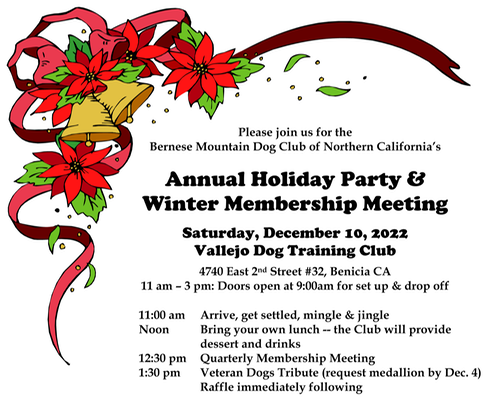 Please note that the Dog Training Club does not have a kitchen. Please bring an item to donate to our Raffle! Don't forget your ex-pens or crates, as dogs must be confined during lunch and the meeting.
HELP US SET UP & CLEAN UP: If you are not going to be in the parade, please help us set up and decorate tables!
DOWNLOAD THE FLYER HERE WITH ALL THE PARTY & PARADE DETAILS!
What to wear?
People: Try to wear Santa or holiday hats and as much red and green as possible so we can coordinate as the BMDCNC Berner Christmas group.
Berners with or without carts: Dogs may wear decorated harnesses, bells, hats, scarves, packs, etc. We will have a team leading our group with the Club Christmas Tree. Have your carts filled with wrapped presents, toys, stuffed animals, candy canes, etc. Candy may be passed out but not thrown.
NOTE: The parade runs north up 1st Street from D Street to H Street, so it's best to park above H Street to return to your car.