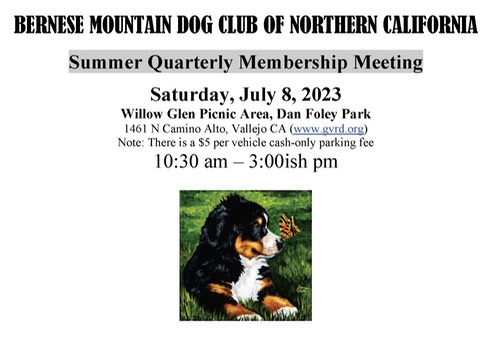 10:30 Arrive: Get settled, mingle, have a nosh. 
11:00 CGC/CGCA Tests: Cindy Beckman will conduct CGC and CGCA tests! Free to BMDCNC members attending the meeting, $15 for all others. Dogs must be on a non-retractable leash with a buckle or slip collar or body harness. Limit of 12 dogs tested. For info on these tests, visit Canine Good Citizen CGC Test or Community Canine CGCA Test 
11:00 Draft Practice: Larry Bohlig and Jim Maxwell will set up equipment for anyone who would like to work on their practical draft work skills on their own and will organize some group exercises. Bring your own cart and harness. 
12:30: Lunch -- we are going back to potluck!! 
EVERYONE: Bring your own main course to throw on the grill. 
LAST NAMES starting with A-L: Bring an appetizer to share. 
LAST NAMES starting with M-Z: Bring a salad or side dish to share. 
The club will provide the BBQ fire, beverages, eating utensils and dessert. 
1:00 Membership Meeting Agenda: 
• Member, Applicant and Guest Sign-In 
• Approval of Quarterly Meeting Minutes 
• Officer and Committee Reports 
• Election of New Members 
• Unfinished Business, followed by New Business 
Don't forget leashes, ex-pens and water for your pups! 
Download event flyer here.