PRODUCTS - EVERYTHING YOU NEED FOR YOUR DOG LOVING FRIENDS AND YOURSELF
Welcome to our "Berner Bowtique".  Please print the order form to the left.   You may pay via PayPal and fax your order or mail the completed order form along with your check.  We hope eventually to add a shopping cart.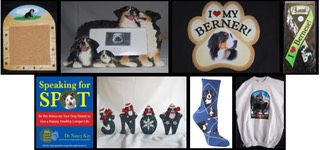 Welcome to the BMDCNC Berner "Bowtique".  You're sure to find just the perfect something for yourself, your Berner or your dog-loving friends. If you have pre-sales questions about any of our items please contact Debbie Christian.
Sweatshirts
T-Shirts
Socks
Books
Bookmarks
Corkboards
Key Chains
Pins
Mouse Pads
Painted Word Letters
Ornaments
(can be personalized)
Picture Frames
Pens and Penlights
Pens and Bookmarks
Tote Bags
Wine Charms
Ribbon Magnets
Paw Magnets
Magnet Pins
  Convenient payment online through PayPal